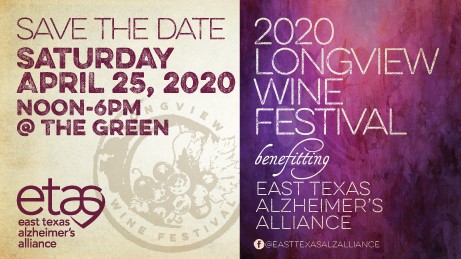 SAVE THE DATE – #LWF2020
Longview Wine Festival 2019 Another Record-Breaking Event!
Our ETAA volunteers worked hard to host a special event on April 27th at the Longview Wine Festival at The Green!  ETAA is thrilled to announce that we had another record breaking event!
With 17 wineries in attendance, over 70 local vendors, over 60 sponsors, and 1500 wine circle attendees, this second annual event well exceeded our expectations!  ETAA raised more than $105,000 from the event that will be used to support local resources right here in our community benefiting individuals and families with Alzheimer's and dementia.  Funds earned from the fundraiser will be used to provide respite grants, caregiver resources, and caregiver support groups to East Texans by East Texans.
We are thankful to Ramsey Realty Group and The Crain Foundation for their extreme generosity and being our top sponsors.  We are also thankful for our event sponsors Arabella of Kilgore, Arabella of Longview Senior Living, and Heartis Longview that not only sponsored, but provided the shuttle service.
We are grateful for our many sponsors and underwriters this year:
Pinor Noir Sponsors:
Johnson & Pace
Neiman Marcus
Ros & Shoalmire
Mr. & Mrs. Joe Bob Joyce
"In Loving Memory of Jack Strong"- Nelda Strong
Drs. Stacey & Doug Holder
Longview News Journal
Chardonnay Sponsors:
H&W Power Sports – Marshall
Rader Funeral Home
L&T VIP Limo Service
Tye Jackson Pictures
JOTS Rentals
Longview Hill
R&K Distributors
Dr. Samir Germanwala & Dr. Gana Nadiga
The Cammack Family-Welch Funeral Home
Frances Harrell Family
Papacita's Mexican Restaurant North
Scotties 2.0
Richard & Carol Manley
Integrity Financial
Ward, Smith & Hill, PLLC
AEP Southwestern Electric Power Company
Longview Regional
Good Shepherd Health System
Precision Lasercraft
Diagnostic Clinic of Longview
Dr. Andy Mack & Dr. Chris Johnson
Julie Woods & Associates
Trina Griffith & Company
Blush Sponsors:
ABC Auto
Tempest Golf Club
VeraBank
Spring Hill State Bank
Hugman Architecture & Construction
McGough & McGough
John C Robbins
Latricia Nichols
Suzanne Cook & Co.
Dr. James & Nancy Sawyer
Choice Homecare of the Pines
Sloan Law Firm
Copeland Group
Austin Bank
Longview and Kilgore Cable TV
Hurwitz
Horaney's, Inc.
Diane Day – Realtor & Radio DJ
VIP Tent Donors:
Bodacious on Mobberly
Fisherman's Market
The Cace Kitchen
Butcher Shop
GZ Asian Bistro & Sushi Bar
Casa Flora
Patron Party Sponsors:
O'Connell Family Wines
Heartis Assisted Living
Ramsey Realty Group
IPE Therapy, LLC
Dr. John & Melinda Wright
Perry D. Reed and Company
Face & Body by Stephanie
Premier Homecare
Guild Mortgage, The Holyfield Group
Patron Party Donors:
R&K Distributors
HouseCalls by KJ Gleason
Tomboni's Bistro
Lil Tommy's Gas and Go
Cafe Barron
Janacakes Bakery
Ronald Porter, Holiday Inn North
Dr. Nadiga & Dr. Germanwala
Heritage Wine & Spirits
Harley's
Cher Ratay and Mrs. Witt
Henry and Moore
Dr. Jim Taylor
Special Guests:  Kilgore Rangerettes
Thank you to our volunteers, Board of Directors, and committee members who have made this year another outstanding success!