Longview Wine Festival Rescheduled for October Because of Coronavirus
The 3rd Annual Longview Wine Festival, one of the Best Area Events by Locals Love Us benefiting the East Texas Alzheimer's Alliance, has been postponed to October in the wake of novel coronavirus concerns.
The event, originally scheduled for April 25 at The Green in Longview, will move to October 17th.  Festival Chair, Kristen Ishihara, cited concerns about the possible health risks because of the ongoing novel coronavirus (COVID-19) spread.  "The decision was not taken lightly or without consideration of many factors," Ishihara said.  "No doubt it will impact many people, but our top priority is to protect the health of the entire community."  Ishihara continued, "While this decision comes at a time of universal uncertainty, we take the safety and health of our 2,500 guests, volunteers, and community very seriously.  We urge everyone to follow the guidelines and protocols put forth by public health officials."
Sponsorships, vendor booths, and ticket purchases will be honored at the rescheduled event.  Refunds will be processed upon request by emailing:  longviewwinefest@etxalz.org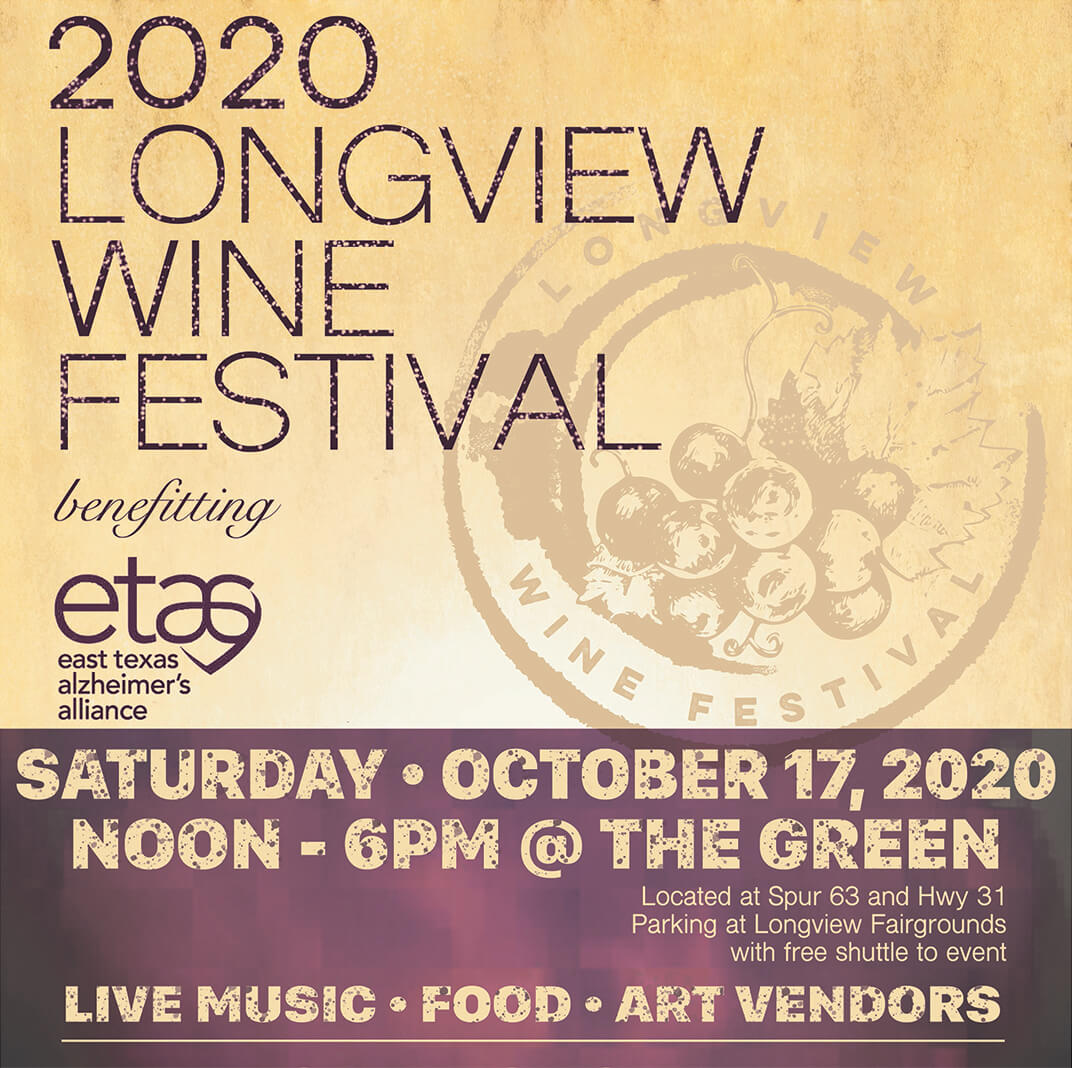 3rd Annual Longview Wine Festival
We warmly invite you to join us on Saturday, October 17th (rescheduled from April 25th), for a beautiful Saturday afternoon on The Green in Longview for the third annual Longview Wine Festival benefiting the East Texas Alzheimer's Alliance!  100% of the funds raised stays right here in East Texas.
Last year, we had over 2,500 attendees and were selected one of the Best Area Events by Locals Love Us for the second year in a row, so we anticipate an ever larger crowd in 2020!  Bring your friends, family, and neighbors to taste various wines from all over Texas and the United States and come see why folks had so much fun!
General Admission tickets are $25 each and comes with a signature plastic cup and 5 wine tastings at the event.  VIP Admission tickets are $50, if purchased before January 31, 2020, and $75, if purchased after January 31, 2020.  With the purchase of a VIP ticket, you receive a signature Longview Wine Festival etched glass,  wine tastings from each winery at the event, and entrance to the VIP tent.
Interested in sponsorship opportunities?   Please email LongviewWineFest@etxalz.org
In the event of a weather-related cancellation, all Longview Wine Festival tickets are non-refundable and can not be applied to Longview Wine Festival tickets in 2021.