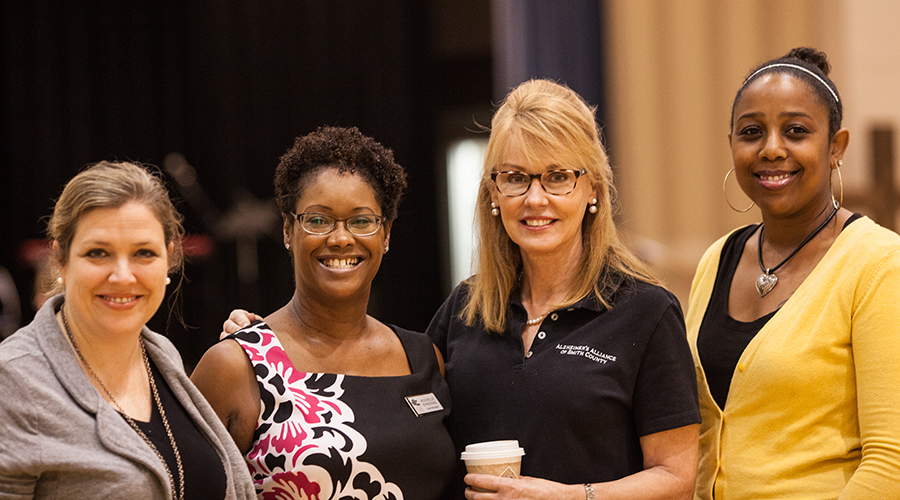 2019 Hope & Help Conference Registration EXTENDED to October 8th @ Noon!
Love is Listening: Dementia Without Loneliness
with Michael Verde, President and Founder of Memory Bridge
Saturday, October 12, 2019 – 9:30AM-2:00PM
Mobberly Baptist Church at The Crossing
East Texas Alzheimer's Alliance cordially invites you to join Michael Verde as he explores the relationship among community, communication, and communion. Michael's presentation will draw upon his studies in philosophy, social psychology, theology and literature and fifteen years of experience in connecting with people with dementia in emotionally meaningful ways.
Training for caregivers of people with dementia typically concerns the meeting of their functional needs – the activities of daily living. Often overlooked in traditional approaches to giving care is how much of the quality of our lives, while including functional needs, depends finally upon the meeting of our relational needs. We care to function because we long to participate in emotionally meaningful relationships. Despite what is widely assumed to the contrary, there is nothing about dementia that diminishes our fundamental human need to feel that we belong and matter.
This one-day workshop introduces participants to a new paradigm of care. While the previous paradigm focused on a person's biological needs and managing behavior, this way of giving care puts our understanding of biology and behavior in a larger context. Our individual well-being initially depends on our membership in a community. Like all people, people with dementia desire to give and receive love. People with dementia will never be seen or heard in the same way again.
The 4-hour workshop will be organized around four, 60-minute presentations on the following themes:
Health and Loneliness
A Philosophy of Care
The Evidence
Action Steps
Michael speaks across the globe on the subjects of world religions, literature and communicating with people with dementia. Some of the esteemed organizations he has conducted programs for include: Chevron, the Federal Reserve Bank of Chicago, St. Christopher's Hospice in London, Alzheimer's Association of Western Australia, and Attitudinal Healing International.
Michael Verde founded Memory Bridge (memorybridge.org) in 2003, a nonprofit dedicated to healing the emotional and social isolation of elders living with dementia. Michael recently produced his second documentary "Love is Listening: Dementia without Loneliness." Globally recognized contributors to this masterpiece reveal how we can move from fear to being with people with dementia.
Michael earned his M.A. in Literary Studies from the University of Iowa, his M.A. in Theology from the University of Durham, England; and is currently earning a PhD at Indiana University in the area of empathetic communication.
Continuing Education credit for this program is pending through Commonwealth Educational Seminars (CES) for the following professions:
SOCIAL WORKERS
Commonwealth Educational Seminars (CES) is entitled to award continuing education credit for Social Workers.  Please visit CES CE CREDIT to see all states that are covered for Social Workers.  CES maintains responsibility for this program and its content.
NURSES
As an American Psychological Association (APA) approved provider, CES programs are accepted by the American Nurses Credentialing Center (ANCC).  These courses can be utilized by nurses to renew their certification and will be accepted by the ANCC.  Every state Board of Nursing accepts ANCC approved programs except California Board of Registered Nursing (Provider #CEP15567) which is also accepted by the Iowa Board of Nursing.
Grievance Policy:
Commonwealth Educational Seminars (CES) seeks to ensure equitable treatment of every person and to make every attempt to resolve grievances in a fair manner.  Please submit a written grievance to: Beth Godsey at bgodsey@etxalz.org, (903) 230-8001.  Grievances would receive, to the best of our ability, corrective action in order to prevent further problems.
Accommodations for the Differently Abled:
Mobberly Baptist Church's training facilities are handicap accessible.  Individuals needing special accommodations, please contact Beth Godsey at bgodsey@etxalz.org, (903) 230-8001.
Cancellation Policy:
Less than 2 weeks prior to the conference, no refunds (the fee is transferable to another participant).

It is the participant's responsibility to check with their individual state boards to verify CE requirements for their state.
This conference is partially funded by Health and Human Services Commission